The BMW i3s receives more power, lower suspension and bigger wheels than the regular i3, adding some keenness to drive to the already funky compact electric car
What is it?
The makers of 'the ultimate driving machine' perhaps felt they could cut themselves some slack when they made the BMW i3. The electrically driven small premium model is one of the most interesting cars on sale to sit in, be around and examine, but has not hitherto been terribly exciting to drive.
Three years on from its launch, here is the BMW i3s: faster, lower, a bit wider and with 'S' in its name, which as we all know is shorthand for sport. Nobody ever added that letter to a car's name while trying to imply it was slower or more sensible.
There is meant to be more 'ultimate driving machine' to the i3s, then, so it has an additional 13bhp (now reaching 181bhp) and 15lb ft (now at 199lb ft) over the conventional i3, although it is backed by the same 33.2kWh battery. You can still have it as a pure electric vehicle or with a 650cc twin-cylinder range-extending generator, which adds easily refillable range and 120kg.
More significant, though, when it comes to the way the i3s drives, is the fact that it rides 10mm lower than a regular i3, has a 40mm wider track (and diddy wheel arch extensions to accommodate it) and rides on larger wheels and tyres. There is now 195/55 profile rubber on 20in rims, rather than 155/70in tyres on 19s – something you suspect will make the biggest difference to the ride and handling.
Elsewhere, the i3s package remains much the same. It's a rear-engined, rear-motored, rear-drive vehicle with a funky interior, constructed in places from unusual materials. This model, though, gets a new 10.3in infotainment display, with BMW's latest software.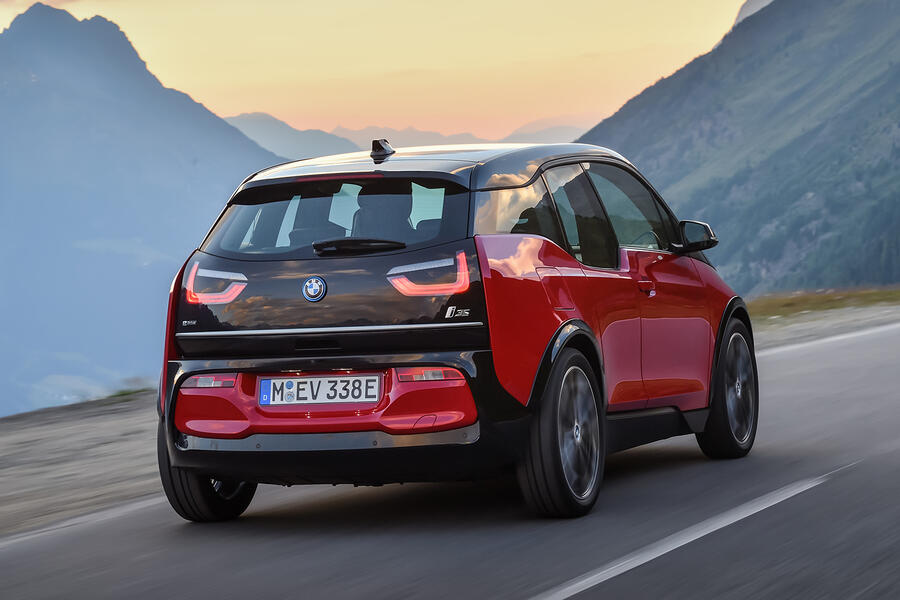 What's it like?
Our test was of a regular i30s, not the range-extended version, and it's certainly more fun than the standard i3. I don't think it's controversial to say that 'fun' and 'EV' are phrases that don't sit easily next to each other, but the i3s's extra keenness is evident from the off.
There are recalibrated spring and dampers settings and steering (and stability control) to get the best out of a car that now grips harder, and whose front end resists skipping gently across surfaces much better than it did before.
With bigger wheels, lower-profile tyres and lower suspension, you might expect the ride to suffer – and you'd be right, I'm afraid. It has been a while since I drove a standard i3, so I can't make a back-to-back judgement, but around town the i3s is pretty firm. It's not uncomfortable and it takes the edges off hard lumps, but it's tall and, even with a lowish centre of gravity, BMW has had to make a compromise between body lean and control versus ride comfort, and obviously decided that keener is best. And if you don't like that? Well, the regular i3 remains on sale, too.
Performance is good. Motor response is incredibly linear, there's strong torque from standstill and acceleration from zero to 62mph is a claimed 6.9sec. Not that you'll want to stay up at that speed for vast amounts of time, because lengthy high-speed running is what tends to cane the range of electric vehicles. The official European test cycle range is quoted at 174 miles for the i3s, 12 miles less than standard i3, but BMW predicts a real-world range of 125 miles, which seems about right by our testing. Bear in mind that it'll be less than that when it's cold.
Inside, there are a few new surface treatments, but the overall ambience remains coolly confident, with BMW's excellent ergonomics accompanying a style that's more exuberant than your regular BMW. It's airy, too, with good visibility. And it gets a lot into quite a small space; it's less than four metres long, but its rearward opening doors give decent access, and its boot space of 260-1100 litres is on a par with most superminis.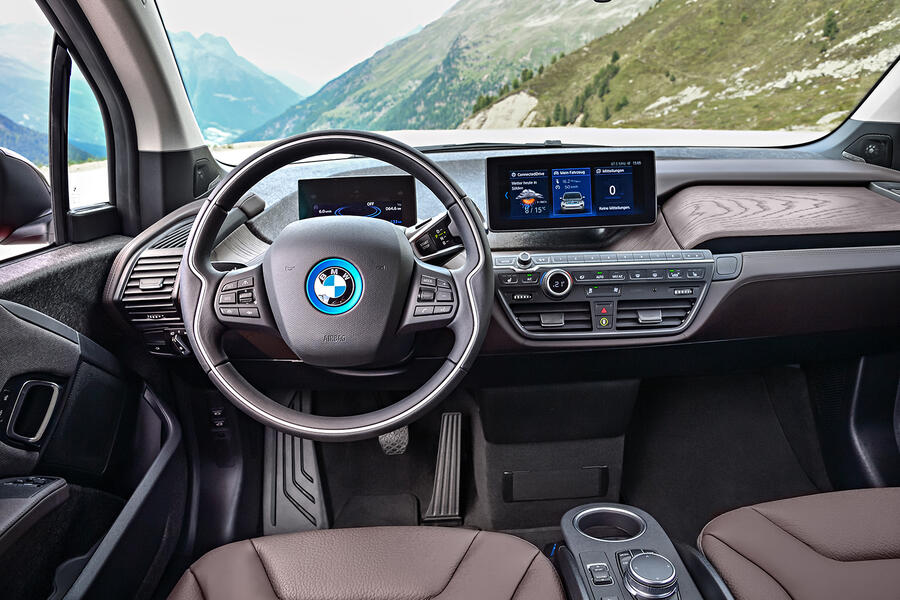 Should I buy one?
The i3 may be supermini-sized, but its price isn't. The i3 remains, at around £30k, a premium choice; but its part-composite construction is clever and its interior feels classy. After your electric vehicle rebate (running at £4500 as I write), an i3s is a £32,475 car, or £35,625 with the range-extender that would hugely improve its usability by adding up to 93 miles to its between-fills range and means you can refuel on the go.
Only you'll know if you need that or not, but 60% of i3 buyers think it's worth having. I also don't know whether you buy an electric car because it's nice to drive. But I can say that, in 'S' form, the i3 is now more enjoyable than any other EV bar an i8, a Tesla Model S with 'ludicrous' mode engaged or a Nissan Leaf on plastic rear tyres. For that reason alone, it has become our favourite version of one of our favourite EVs.
BMW i3s
Where Portugal On sale Now Price £36,975 Engine electric motor Power 181bhp Torque 199lb ft Gearbox NA Kerbweight 1265kg Top speed 100mph 0-62mph 6.9sec Fuel economy NA CO2/BIK 0, 9% Rivals Renault Zoe, Nissan Leaf